Roughly 8.25% (10 million households) in America are accredited investors according to the Federal Reserve's calculations in 2013. Given the economy and the stock market and real estate market have continued to boom in 2019, the number is likely closer to 10% of all households.
Accredited investors control the majority of wealth in America, therefore, if you want to start a business, start a business that focuses on accredited investors. That's where you can service the few, and get maximum return for your efforts.
Let's first define what an accredited investor is.
What Is an Accredited Investor?
In the United States, to be considered an accredited investor, one must have a net worth of at least $1,000,000, excluding the value of one's primary residence, or have income at least $200,000 each year for the last two years (or $300,000 combined income if married) and have the expectation to make the same amount this year.
The term "accredited investor" is defined in Rule 501 of Regulation D of the U.S. Securities and Exchange Commission (SEC) as:
a bank, insurance company, registered investment company, business development company, or small business investment company;
an employee benefit plan, within the meaning of the Employee Retirement Income Security Act, if a bank, insurance company, or registered investment adviser makes the investment decisions, or if the plan has total assets in excess of $5 million;
a charitable organization, corporation, or partnership with assets exceeding $5 million;
a director, executive officer, or general partner of the company selling the securities;
a business in which all the equity owners are accredited investors;
a natural person who has individual net worth, or joint net worth with the person's spouse, that exceeds $1 million at the time of the purchase, or has assets under management of $1 million or above, excluding the value of the individual's primary residence;
a natural person with income exceeding $200,000 in each of the two most recent years or joint income with a spouse exceeding $300,000 for those years and a reasonable expectation of the same income level in the current year; or
a trust with assets in excess of $5 million, not formed to acquire the securities offered, whose purchases a sophisticated person makes."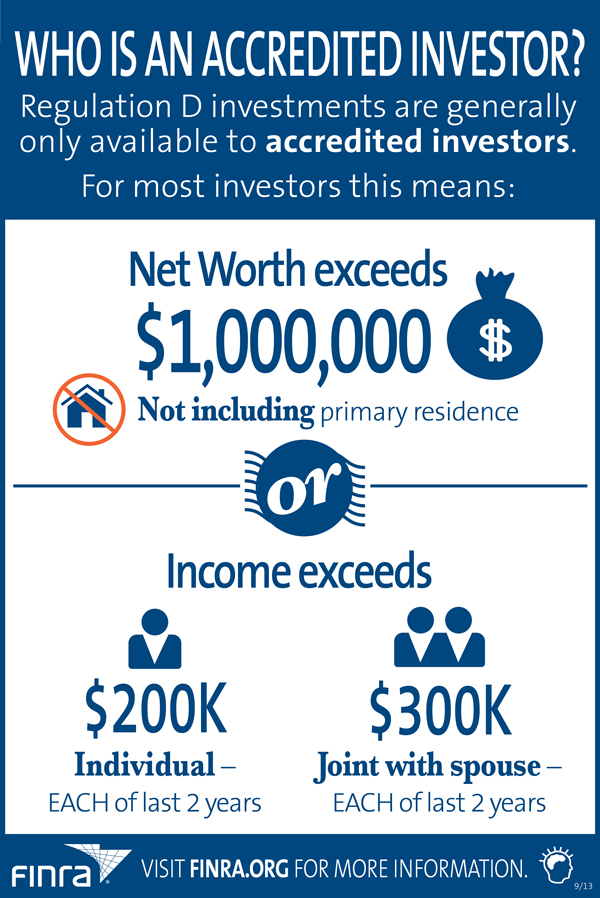 Roughly 8.5 million households qualify as accredited investor based upon the net worth requirement alone and 6.1 million households qualify based on the $200,000 income threshold according to the data by the Federal Reserve for 2010. Once again, these numbers are surely higher as the stock market is up over 100% since 2010 and the real estate market in many parts of the country have surpassed their 2006-2007 highs.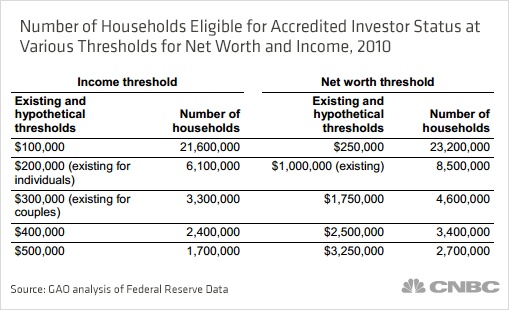 What Can You Do as an Accredited Investor?
Once an investor qualifies as an accredited investor, that investor can then invest in private placements, private funds, and private investments. That includes things such as venture capital funds, venture debt funds, angel investments, hedge funds, and my current investment focus: real estate crowdfunding.
Real estate is my favorite investment class to build long term wealth. The asset is tangible, provides income, and has a utility, shelter. I'm currently investing heavily in the heartland of America through RealtyShares because I believe there is tremendous arbitrage opportunity to invest in middle America property that's cheaper, with higher yields.
Technology is making remote work a trend. And people are moving out of expensive coastal cities in droves to live in lower cost areas. With the rise of real estate crowdfunding platforms like Fundrise, more capital will seek such opportunities, enriching first movers.
Conclusion
The accredited investor definition is somewhat arbitrary. Why is $200,000 the right income number to allow one to invest in private deals? $200,000 is a relatively middle class income in places like NYC and San Francisco. Is the government saying someone who only makes $150,000 a year, but spends his entire career analyzing private deals isn't eligible? Whereas someone who makes $200,000 a year as a diary farmer is? It makes no sense.
All the same, it's worth trying to be an accredited investor in order to gain as much access as possible. Your goal is to have the optionality to invest. Companies have varying degrees of strictness with regards to checking your accredited investor status by the way.
I invested in a private gin company in 2007 as a 29 year old and they never checked my financials before I gave them $60,000 of my hard-earned money. There is no "accredited investor police" in other words.
The best thing you can do for your wealth is to have a well-diversified portfolio of stocks, bonds, real estate, and alternative investments. You want some of your assets to zig when some of your other assets zag. Don't be like the folks who went all-in equities right before the financial crisis!
Recommendation To Build Wealth
Track Your Wealth For Free: In order to optimize your finances, you've first got to track your finances. I recommend signing up for Personal Capital's free financial tools so you can track your net worth, analyze your investment portfolios for excessive fees, and run your financials through their fantastic Retirement Planning Calculator. Those who are on top of their finances build much greater wealth longer term than those who don't. I've used Personal Capital since 2012. It's the best free financial app out there today.
Review Summary
Reviewed by
Review Date
Reviewed
Definition Of Accredited Investor
My Current Rating